Soccer World
An excellent comprehensive soccer resource with coverage on the World cup soccer news, topics on the best soccer players of all time, and more delivered to you online.





Top 20: Soccer Players Of All Time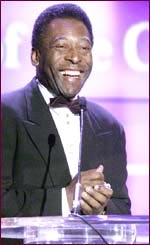 How does one compare a player's contribution to a given competition? And then face the difficult task of judging a player's impact in terms of club play; is a top-scoring title in one league worth more than another?
With all of these different aspects to consider, selecting the 20 greatest soccer players of all time is a daunting task. English fans will be partial to players such as Bobby Charlton, Stanley Matthews, George Best, or even David Beckham. An Italian fan might include Giacinto Facchetti, Dino Zoff, and Paolo Rossi. Turn to South America and you would see names like Garrincha, Vava, and of course Pele and Maradona.
Argentina wary but optimistic
With two European heavyweights and an African outfit blocking their route to the second round, it is a case of 2002 revisited for Argentina. However, Albiceleste coach Jose Pekerman is confident of avoiding a repeat of the Asian debacle and has every faith in his squad, saying: "When the going gets tough we always produce the goods."
When Brazilian legend Pele drew the Netherlands' name out of the hat at the 2006 FIFA World Cup™ Final Draw, a loud murmur went around the Messe Convention Centre.