England World Cup 2006 - The draw has been made!
Friday 9th December 2005 saw football fans across the world clinging to the edge of their seats, waiting to find out who they would play in the group stages of the World Cup 2006 in Germany. The ceremony contained all the usual fanfare and build up that one would normally associate with modern sporting events. In other words, the interested sports fan was subjected to hours of mindless drivel whilst waiting for the real action to begin. Whoever puts these events together cannot possibly think that the sports fans who have tuned in to see such an event can be in any way interested in the flaky magic shows and dancing troops they trot out. One can only imagine that large amounts of cash in brown envelopes changes hands in order to give some below par performers their chance to be on global television. The experience was made slightly more bearable with a good looking blonde in a revealing dress co-hosting the program.
When the draw did finally come it was dragged out, with a host of footballing celebrities selecting balls to choose the teams. Again, one has to assume that the presenters and celebrities were being paid by the second as they struggled to make this non-event into a television spectacular. This should have taken no more than 15 minutes to accomplish, but no, sky sports coverage went on for a full 3 hours! If this is an indication of things to come it is no wonder that the tournament will take an entire month to complete.
When the dust settled on the over dramatised proceedings in Leipzig, England came out of it rather well. Despite having traditional rivals for Sven's loyalty, Sweden, in the group, Paraguay and Trinidad & Tobago are surely there just to make up the numbers. With the top two from each group progressing to the second round, England are favourites to move into this stage with out too much upset. Depending on the positioning in both England's group (B) and the Germany / Poland group (A) the permutations possibly set up an early crunch match with the hosts. However this would rely on either Germany or England failing to win their respective groups and an England vs. Poland second round match is much more likely. Providing this potential banana skin can be negotiated, the likely hood is that England will crash out on penalties in the quarter finals to either Holland or Argentina. All England fans, despite the optimism that normally surrounds the build up to a world cup, harbour a sense of the inevitable heroic defeat in the latter stages of the tournament. The usual comments have been made by the respective managers, with Sven contributing in his normal flamboyant style "It is not an easy group but it could have been much worse," – that one must have taken hours at the speech writers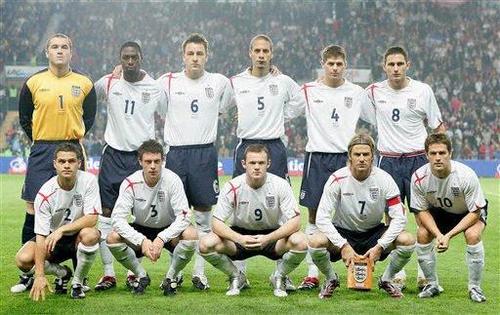 Perhaps the most intriguing groups are C, where Holland and Argentina are drawn together, and E, where Italy take on USA, Czech Republic and Ghana. Traditionally slow starters to tournaments, and having failed to progress from the group stages last time round, Italy have a tough task ahead. Having been drawn with the much improving USA and a Czech side who are starting to show signs of the retuning glory days with an excellent performance in the last Euro Championships, Italy could be the competitions first big casualty, with Ghana being very much an unknown entity. Group C provides an early clash of the big boys, where the Dutch side are much better than their unranked status suggests, but both Holland and Argentina should be strong enough to overcome Ivory Coast and Serbia & Montenegro to advance to the second round. The only question really is of who will top the group and theoretically draw the easier second round match.
Historically it has been very difficult for a South American team to win a world cup in Europe and at first site Brazils ranking as clear favourites might seem a little generous. However, the game is not the same as it has been in the past and many of the Brazilian team already play in top European sides in England, Spain and Italy. Their acclimatization has been years in the making and the European style of football combined with the traditional Brazilian flair and talent will be mouthwatering to watch. It will take a very good side to take their crown from them and in Ronaldhino they have a player who can turn any match on his own.
Perhaps the most fun aspect of any world cup is watching the dark horses, those minnows from countries not associated with footballing greatness, progress and upset some of the brighter lights. This time round, there are fair sprinklings of African nations in the mix and some surprises could come from there. It could be worth looking out for the likes of Ivory Coast and Ghana when deciding where to place that risky high odds fiver at the bookies. South Korea, perhaps the surprise package of the last world cup in Japan are unlikely to be able to repeat their heroics and will not be underestimated a second time.
A Brazil vs. Germany final could be on the cards.
See this article and others at http://www.lazybugger.com
John Millward http://www.lazybugger.com
Article Source: http://EzineArticles.com/?expert=John_Millward