Saudi Arabia have sacked their Argentinian coach Gabriel Calderon and replaced him with the Brazilian Marcos Paqueta for the 2006 FIFA World Cup™ finals.
"Paqueta replaces Gabriel Calderon who did not achieve satisfactory results as head of the national team," the Saudi Arabia Football Federation said in a statement on Tuesday.
Paqueta was given a contract through to the 2007 Gulf Cup and Asian Cup tournaments. His deputy will be Nasser al-Jawhar, who coached the Saudi team at the 2002 FIFA World Cup where they lost 8-0 to Germany, 1-0 to Cameroon and 3-0 to the Republic of Ireland.
Paqueta, currently coaching Saudi club Al-Hilal, guided Brazil to the U-20 and U-17 world titles in 2003.
Calderon's sacking was a surprise as Saudi Arabia qualified for next year's FIFA World Cup finals in Germany by finishing top of their Asian qualifying group ahead of Korea Republic who also qualified. In recent friendlies against fellow qualifiers they beat Paraguay 1-0 but lost 3-1 to Ghana.
Iran hopefuls show plenty of promise
Iran showed that character is one thing they certainly do not lack after bouncing back from a semi-final defeat to clinch the bronze medal at the recent West Asian Games in Doha – an achievement they accomplished with a side replete with youngsters.
Team Melli's hopes of winning the tournament ended with a penalty shoot-out defeat by Syria in the semi-finals after the sides had played out a goalless draw. But there was still plenty of encouragement to take from the fact that they managed to go as far as they did with a squad comprising almost entirely U-23 players.
Rene Simoes, the youngsters' coach, saw his B team crash out 4-1 on penalties to a Syria side that had been reduced to ten men, but they responded impressively as they picked themselves up to beat Saudi Arabia 2-1 on 10 December and seal third place. "We started the competition with a lot of new players but I felt that we played well and only lost once," said Simoes as he reviewed a satisfactory campaign.
The tournament was a chance for some of Iran's young hopefuls to impress as the countdown to Germany 2006 gathers pace. Striker Arash Borhani and midfielder Javad Nekounam were spearheading a new generation of players and they clearly gave the team an added edge over their rivals in attack.
The 23-year-old Borhani, who has chalked up nine goals in 13 Iranian Pro-league matches this season, proved a constant menace to opposing defences and scored twice in the opening match as Iran beat Kuwait 4-0. Although he was unable to find the net in the next two fixtures – against hosts Qatar and then Syria - the Pas marksman rediscovered his scoring touch in the 2-1 win against Saudi Arabia as he claimed his second double of the tournament.
Meanwhile, Nekounam, the captain and senior figure in the squad at 25, did a good job of conducting the play from the centre of the park. He lent support to the attack with his surging runs and crosses and opened the scoring in the 4-1 victory over hosts Qatar.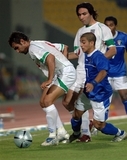 Knocking on the door
The performances of Borhani and Nekounam will have pleased Iran coach Branko Ivankovic, and they are unlikely to be the only players from Simoes' side in Qatar knocking on the door of the senior squad in the coming months. Goalkeeper Hassan Roudbarian's performances got him noticed and he is now regarded as one of the favourites to provide back-up to first-choice custodian Ebrahim Mirzapour.
Elsewhere, Jalal Hosseini, whose stature and confidence have earned him comparisons with Iran's Messina-based defender Rahman Rezaei, played with composure throughout the tournament. And Masoud Shojaee shone in midfield with his creative touches and intelligent movement; he may not have got on the scoresheet but contributed with two assists for Borhani in the 4-0 win against Kuwait.
These hopefuls can rest assured that Ivankovic will be keeping a keen eye on their progress. The Croatian coach forged his reputation in Iran by leading their U-23 team to victory at the 2002 Asian Games in Busan. He duly promoted several members of that side to the senior ranks as he rebuilt Team Melli following their failure to qualify for the 2002 FIFA World Cup™, and three years later the likes of Hussein Kaebi, Borhani and Nekounam, are fixtures in the squad.
Looking to next summer and beyond, Ivankovic stressed the importance of youth as he told FIFAworldcup.com: "I will watch more young players and try to inject new blood into the team. I hope I can hand my successor a team with plenty of potential when I leave my post here."