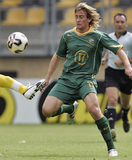 A rising star at Hyundai A-League side Perth Glory, foraging midfielder Nick Ward is looking to break through from the Australian youth ranks and into Guus Hiddink's senior squad ahead of next summer's FIFA World Cup™ finals in Germany. And a place in the Socceroos party could even put Ward, whose 20th birthday falls three months before the finals, in contention for the much-coveted Gillette Best Young Player Award.
Averaging a goal every other game for the Perth side in the A-League's inaugural season, the 19-year-old is doing his prospects of a senior call-up the power of good. With a more-than credible record at youth level – including three appearances at last summer's FIFA World Youth Championship in the Netherlands where he scored a goal and looked Australia's brightest player - the next step may well be the full national team for the Glory man.
With the Socceroos having qualified for their second FIFA World Cup after 32 years of wandering the wilderness, the timing could be perfect for the Perth-born youngster. National coach Guus Hiddink is known the world over for keeping an open-door policy in his squad, ensuring the best players always get a look in regardless of history, pedigree or popularity.
The fact that Perth Glory are one of the stronger teams in the fledgling league bodes well for Ward, ensuring a degree of exposure that could help him catch the eye of Hiddink and his scouts. Certainly he has no shortage of attention on the west coast, his status as one of the few local lads in the side automatically making him a fans' favourite.
Blessed with a knack of getting forward from midfield and launching the killer pass or going for goal himself, the Australian Institute of Sport graduate has become one of the most exciting prospects Down Under. With good height, speed and an eye for the finer points of the game, Ward – who has four goals for Australia's youth team in 16 appearances – could yet edge his way into Hiddink's plans and become the baby of the senior Socceroos squad.
Given the 'soccer'-mania that accompanied the penalty shoot-out win over Uruguay that sent Australia through to FIFA World Cup finals, an increased interest in the new domestic league is expected to follow. And among the things Australians will see when they turn their attentions to the domestic game are a few star turns by this exciting young talent.